Dental Implants – New York City, NY
The Modern Gold Standard for Replacing Teeth
It probably goes without saying that losing even a few teeth can have dramatic repercussions on your oral health and your life overall. The best solution is to have your natural teeth reimplanted, but that often isn't possible; thus, the next best thing is to find a replacement that accounts for the entire missing dental structure. That is where dental implants come in, as they offer many benefits that you would miss out on with a more traditional replacement option. Call today to set up your initial consultation with Dr. Sanchez and Dr. Shim to discuss replacing missing teeth with dental implants in New York City, NY.
Why Choose FS Dental Arts
for Dental Implants?
Complete Implant Services In-House
A Uniquely Welcoming Environment
Beautiful, Long-Lasting Restorations
What Are Dental Implants?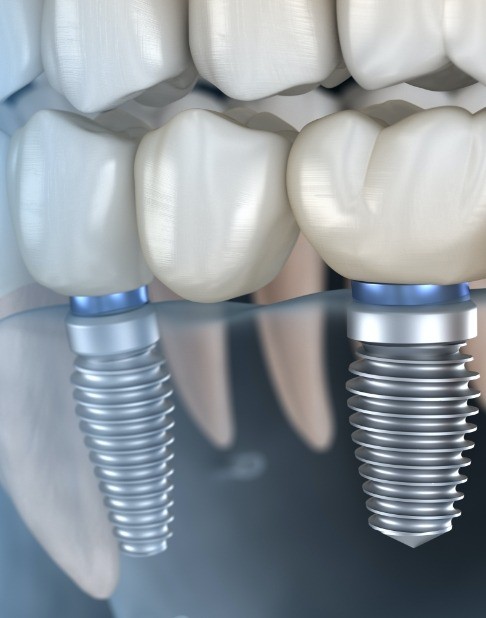 A dental implant is a small post made from titanium. It doesn't look much like a tooth, but that is because it's not the part that other people are supposed to see. Instead, it is actually inserted into the jawbone via surgery. Then a crown or bridge or denture can be attached to it. That way, the restoration can fill in the empty space above the gums while the implant post acts as an artificial root, holding the new tooth or teeth in place.
The 4 Step Dental Implant Process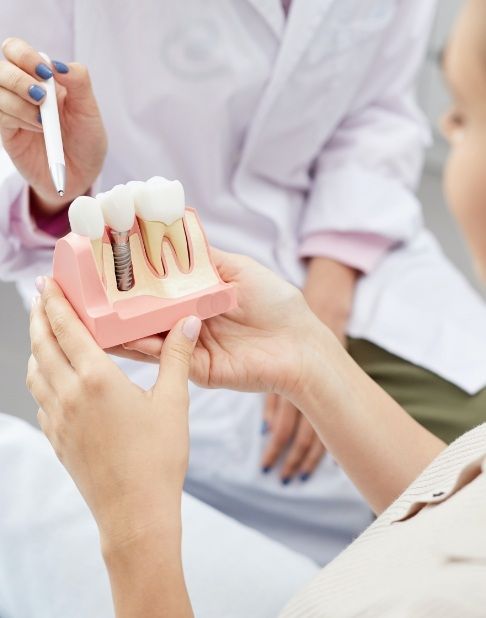 Consultation: The first thing we need to determine during your initial consultation is whether you're a good candidate for implants. Bone grafts and other treatments may be needed to prepare your mouth beforehand.
Dental Implant Surgery: Placing implants in your jaw is a minor surgery that we can handle in-office thanks to our periodontist, Dr. Eunjung Shim.
Osseointegration and Abutment: We will wait between three and six months for your implant to fuse with the jawbone. Then we will attach abutments to the implant posts. An abutment is a small piece of metal that connects the restoration to the implant.
Final Restoration: After the abutment has been placed and your mouth has healed, we can take the impressions to make your final restoration.
Benefits of Dental Implants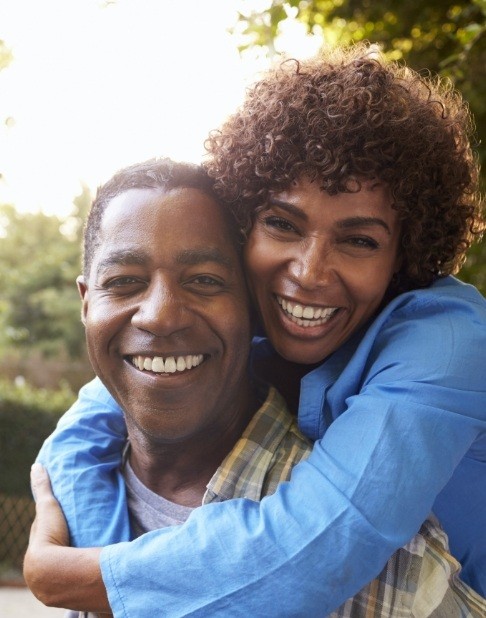 Versatility: Implants can be used to support basically any restoration, meaning they can replace any number of missing teeth.
Improved Stability: Dental implants can be used to chew all kinds of foods, including those that might give traditional denture-wearers trouble.
Improved Health: Dental implants stimulate the jawbone and keep it healthy. They also let you enjoy a varied and nutritious diet.
Easy Maintenance: Taking care of dental implants is very similar to taking care of your natural teeth.
Longevity: As long as you're taking good care of them, you can expect implants to last 30 years or longer.
Who Dental Implants Can Help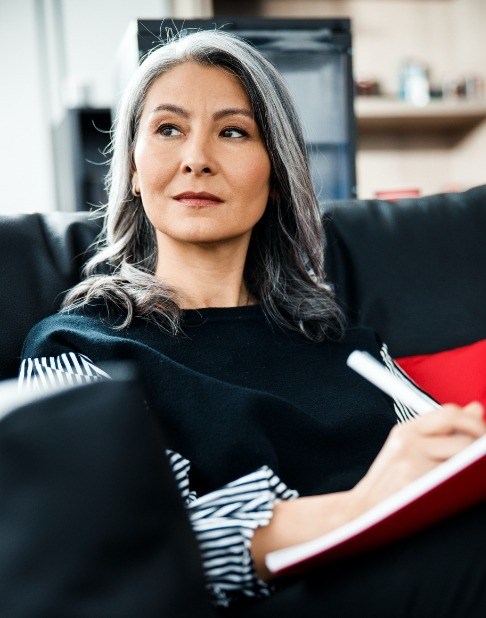 Not everyone is qualified to get dental implants. You need enough jawbone density to support the posts, and your smile needs to be free of gum disease and other infections. We can perform an examination to determine whether you're eligible for implants before you move forward with the procedure. The next steps will largely depend on how many teeth are missing, as the number of implant posts required as well as the type of restoration they support will have to be taken into account.
Missing One Tooth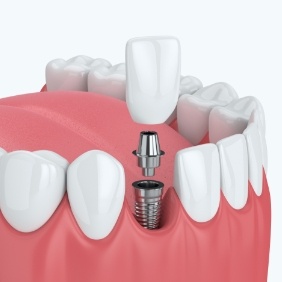 The simplest dental implant process is the use of a single implant post and crown to replace a lone missing tooth. The implant is all that's needed to hold the crown in place; there's no need for us to make any alterations to your teeth, so the rest of your natural smile is preserved.
Missing Multiple Teeth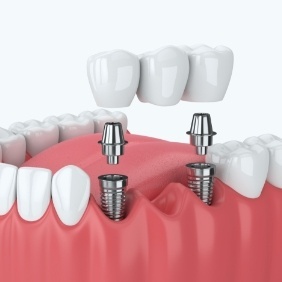 Thanks to the versatility of implants, there are a couple of different approaches to using them to replace multiple teeth. They can be used to support a dental bridge if you only need to fill in a single gap left by multiple consecutive teeth, but they are also useful for supporting partial dentures.
Missing All of Your Teeth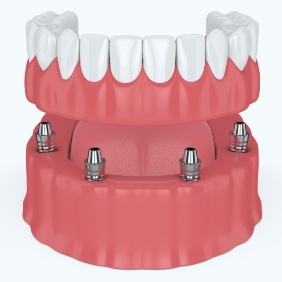 It normally takes around 4 to 6 implants to support full dentures, although the exact number may vary depending on the techniques use and the size of your jawbone. Dentures are often permanently attached to implants, but there's also an option to make them removable if you would prefer.
Understanding the Cost of Dental Implants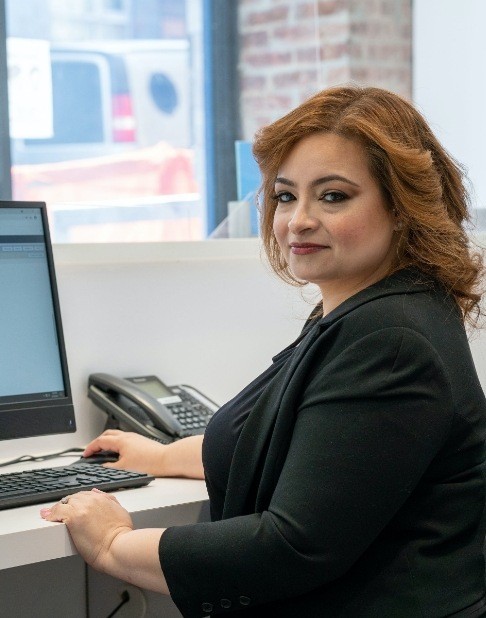 The final cost of implants may vary based on a variety of factors, which includes but is not limited to:
Whether preliminary treatments are needed
How many implant posts are used
What kind of restoration is needed
We can give you an estimate to work with after your initial consultation. When considering the price, remember that dental implants can last for decades while traditional bridges and dentures are more likely to break or wear down to the point of needing to be replaced in just 10 years or so.
Dental Implant FAQs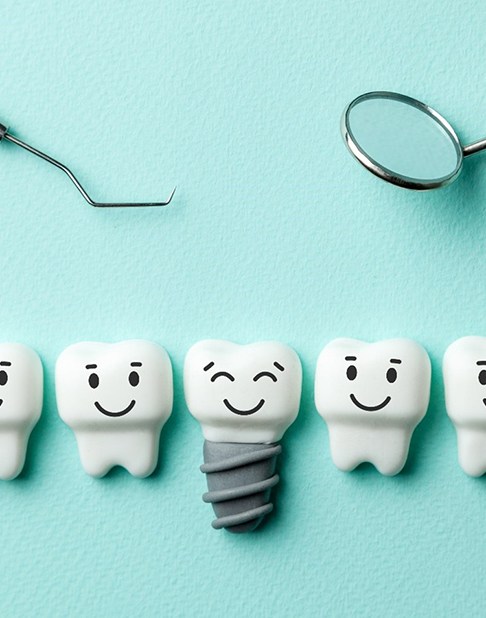 If you're missing one or more teeth, you know how difficult it can be to complete daily tasks, like eating, speaking clearly, and smiling with confidence. Fortunately, dental implants are available to give you your smile back, but you may still have some unanswered questions about the process. Here are the answers to some of the most common questions we receive about dental implants in New York. If you don't see the information that you're looking for below, don't worry. Give us a call, and we'd be happy to answer your questions and get you started with an initial consultation.
How Long Do Dental Implants Last?
The lifespan of dental implants typically depends on the health and lifestyle choices of the patient. To ensure that dental implants last, it's important to brush, floss, and rinse with a mouthwash on a daily basis. See your dentist regularly, and avoid chewing on anything particularly hard or sticky. With proper maintenance, dental implants can last upwards of 30 years. This is several times longer than traditional bridges and dentures.
Does Getting Dental Implants Hurt?
The jawbone doesn't have very many nerve endings, and your mouth will be numbed with a local anesthetic before the procedure begins. You will also most likely be sedated, lowering your body's ability to register pain. While the surgery itself shouldn't hurt, your mouth may be sore for a few days afterward. This can be managed by taking recommended over-the-counter and prescribed pain medication as directed. Cold compresses can also help. If discomfort worsens instead of improving after two or three days, give us a call.
Are Dental Implants Safe?
For most patients who are in good health, dental implants are very successful when placed by a qualified professional. If you have low jawbone density or gum disease, these issues will need to be addressed ahead of time to make dental implant surgery safer and more successful. If you have diabetes, cancer, or another medical condition that could make surgery or healing risky, we will discuss this during your consultation. Your health is our number one priority.
Am I Too Young to Get Dental Implants?
Most dental professionals will not place implants in patients who are younger than 18. If dental implants are placed before the jaw is finished growing, it could interfere with further bone development and potentially result in complications. Most people's jaws aren't fully developed until young adulthood. Some people's jaws take until their mid-20s to fully develop. In general, men's jaws take longer to develop than women's jaws do. During your consultation, we will discuss whether or not dental implants are the right option for you at this time.