Cosmetic Dentistry – New York City, NY
How We Can Bring Out Your Best Smile
The ideal smile in your head isn't always the one that's in your mouth. Even the best oral hygiene practices won't necessarily stop the teeth from becoming discolored or the enamel from becoming cracked or chipped over time. Have you felt like a lack of confidence in your smile has started to affect your overall self-esteem? Call FS Dental Arts today to set up an appointment with Dr. Sanchez. We always love helping our patients obtain their dream smiles with cosmetic dentistry in New York City, NY.
Why Choose FS Dental Arts
for Cosmetic Dentistry?
Invisalign for Straightening Crooked Teeth
Venus In-Office Whitening Procedure
Unique, Conveniently Located Dental Office
Porcelain Veneers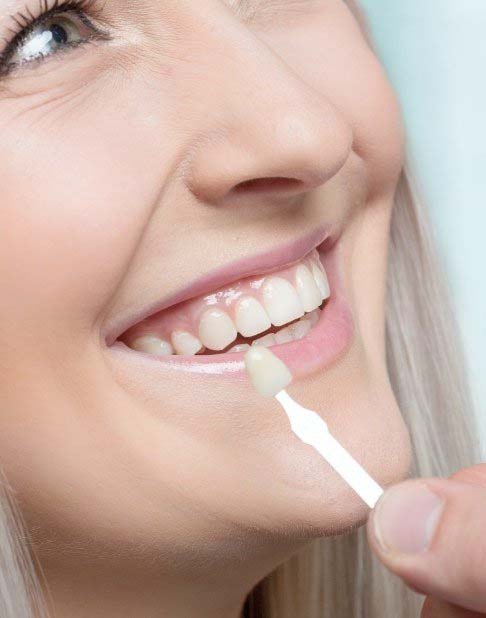 A veneer is a thin shell that is attached to the front of a tooth over the course of at least two appointments. Veneers can make stains, chips, cracks, and a number of other flaws all disappear simultaneously, making them a great choice for those who want a brilliant smile but aren't sure where to start with making corrections. You can improve a single tooth with one veneer, but many people choose to get enough veneers to enhance all their normally visible teeth.
Metal-Free Dental Restorations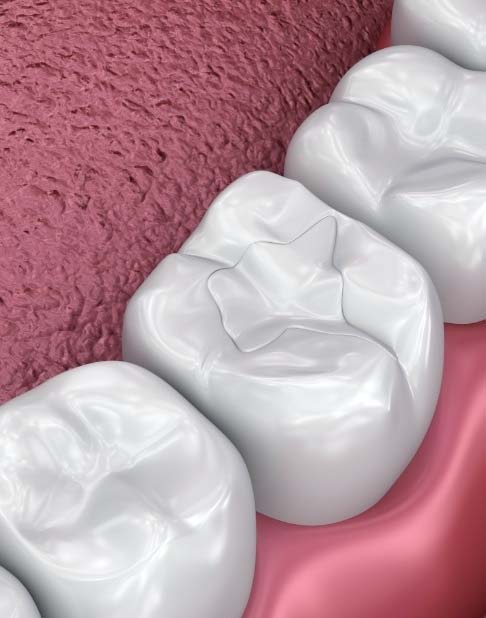 When metal amalgam is used to make restorations, they tend to stand out. But when tooth-colored materials are used instead, most casual observers are unable to tell the difference between teeth that have been restored and those that haven't. Emax and zirconia crowns are two metal-free options that will let you protect your teeth without having to worry about appearances. Despite not being made of metal, they still provide more than enough strength and durability to restore the function of your smile.
Dental Bonding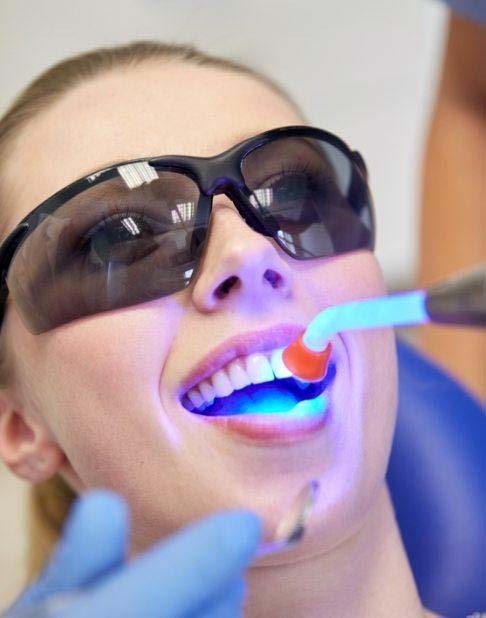 Minor chips, small discolored spots, and even certain gaps can often be fixed with a quick procedure known as direct bonding (or, as it's sometimes called, cosmetic dental bonding). A small amount of composite resin is applied to the enamel and hardened with a special curing light. By placing the material in a strategic spot and molding it, we can make quick improvements to the tooth's overall shape, size, and color in about an hour or so, depending on the extent of your oral damage.
Teeth Whitening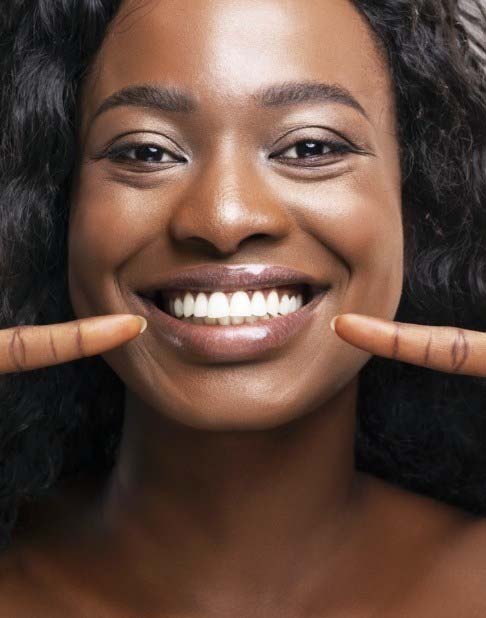 Discoloration of the teeth usually happens very gradually as a result of regular exposure to dark colored foods and beverages; it can also be a consequence of heavy tobacco use or certain medications. We have two major options for getting rid of discoloration: we can either offer an in-office Venus whitening treatment that can completely transform your smile after just three or four 15-minute sessions, or we can give you an Elegance brand whitening kit to make the changes yourself at home.
Learn More
Invisalign Clear Aligners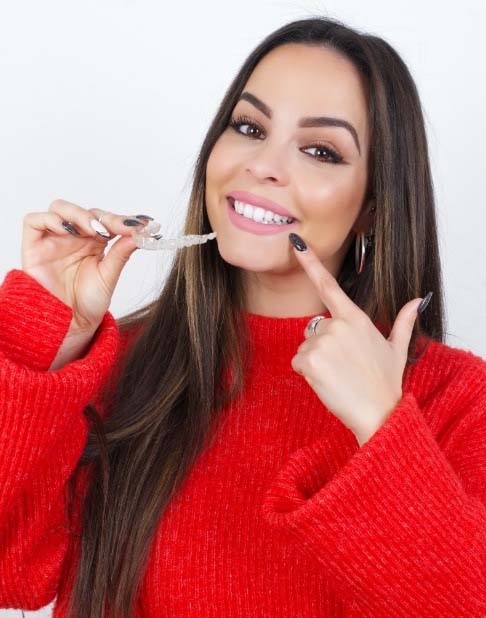 Even adults can benefit from a straighter smile from both a cosmetic and health perspective! Invisalign can be used to slowly push your teeth until they reach their properly aligned position. The big advantage of using Invisalign instead of braces is that you're wearing a clear plastic aligner instead of metal brackets and wire, so people are much less likely to notice. You'll also be able to eat whatever you want since the aligners are removable.
Gum Recontouring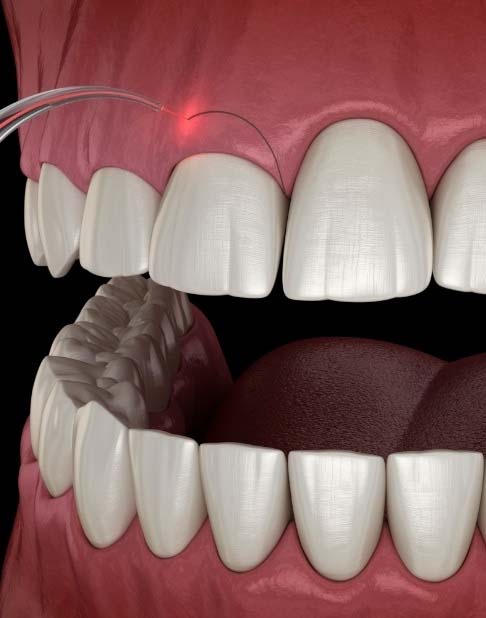 Is there too much gum visible when you smile? We can get rid of the tissue that's making your smile gummy with a gum recontouring procedure. This treatment helps ensure that people are only paying attention to your dazzling teeth whenever you smile; it can also expose more of the underlying enamel, which can help those who are bothered by teeth that appear to be unusually small. In some cases, recontouring involves grafting tissue in order to reverse gum recession.
Smile Makeovers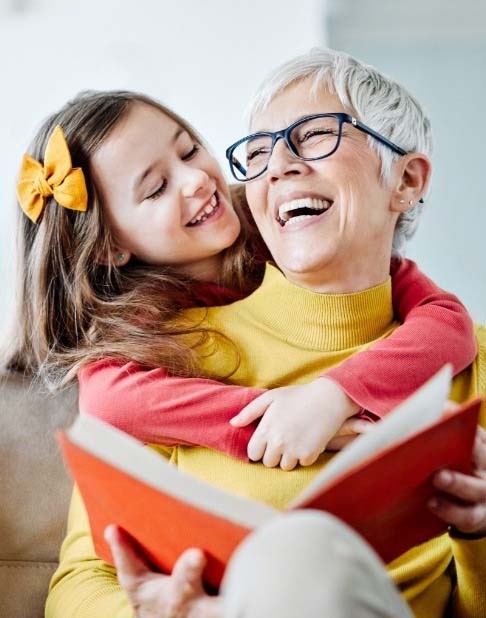 A smile makeover is a comprehensive cosmetic plan that revolves around enhancing your teeth in a way that's uniquely suited for you. A combination of cosmetic procedures will be employed to make the desired corrections. Are you looking to brighten your teeth? Improve a gummy appearance? Cover chips and cracks? Improve alignment? Let us know what's bothering you during a cosmetic consultation, and we'll help you put together a plan that will have you beaming.
Understanding the Cost of Cosmetic Dentistry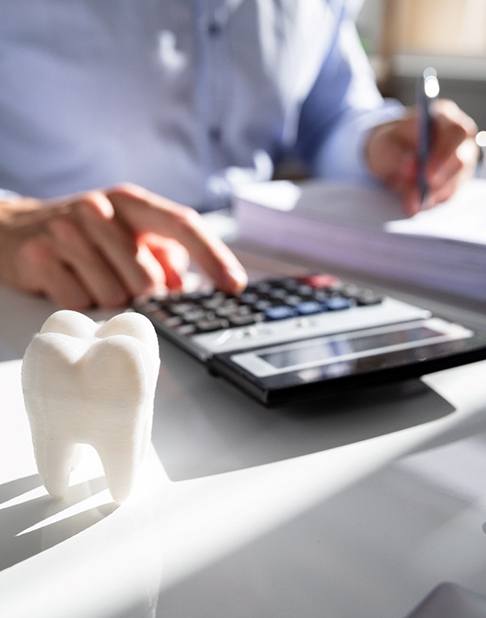 Did you know you don't have to be a movie star or celebrity to benefit from cosmetic dentistry? People from all walks of life can afford to improve their smiles because there are more treatment options available. Various factors affect the cost of cosmetic dentistry in New York, but we strive to keep it affordable for everyone. After examining your mouth, we'll provide you with a personalized estimate and discuss your payment options to keep the smile of your dreams within your budget.
Which Cosmetic Dental Service Is Right for Me?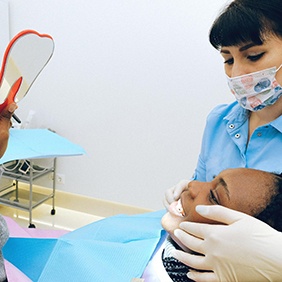 Cosmetic dentistry isn't a single procedure. Instead, it involves an area of dentistry that uses elective treatments to enhance aesthetics. Since no two mouths are identical, every treatment plan is unique. After learning more about your goals, your cosmetic dentist in New York will explain which services are right for you, including:
Porcelain Veneers: Veneers are applied to the teeth visible when smiling to correct several issues simultaneously, like stains, chips, or gaps.
Metal-Free Dental Restorations: Tooth-colored materials are used to repair damaged teeth to provide natural-looking results.
Dental Bonding: A composite resin is shaded to match your enamel to blend in when treating minor issues, like chips or cracks.
Teeth Whitening: Your teeth can get up to 8 shades whiter with a professional whitening system.
Invisalign: Clear aligners correct bite and alignment concerns discreetly for a sophisticated, convenient orthodontic solution.
Gum Recontouring: A soft tissue laser sculpts the gum line to promote an attractive smile.
Your dentist will review the costs of each option to find the best procedure for your goals and bank account.
Cosmetic Dentistry Can Be an Investment Worth Making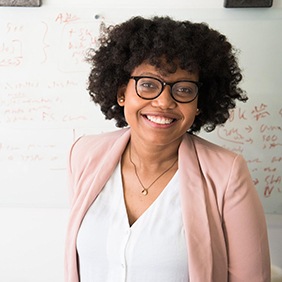 You can't put a price tag on the benefits you'll enjoy by achieving a picture-perfect smile. Besides a boost to your self-esteem, your career prospects may improve. Research has found an attractive smile is associated with youth, success, and confidence, which can be more appealing to potential employers or customers. Besides a more lucrative future, you may also lower your long-term dental expenses. Correcting specific aesthetic concerns, like a chipped tooth, can improve your oral health, so you are less likely to need a costly procedure later.
How to Make Cosmetic Dentistry Affordable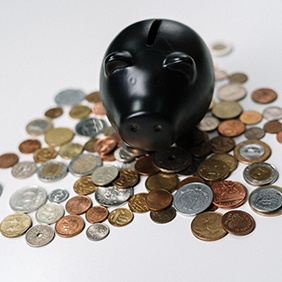 Rest assured, you will know exactly what you will have to pay before committing to anything. A member of our team will explain your estimate and review your payment options, which include:
Traditional Payments: Our office accepts all traditional payment methods, including cash, checks, and credit cards.
Dental Insurance: Most dental plans won't cover elective procedures, but if your dentist determines a treatment is medically necessary, you may be able to use your benefits to offset the cost. You might also be able to use your dental insurance for any preparatory services, like a cleaning and checkup or gum disease therapy.
Financing: Pay for your new smile using monthly installments with little or no interest financing based on your credit approval.
If you have any questions about paying for cosmetic dentistry, contact our office today.
Cosmetic Dentistry FAQs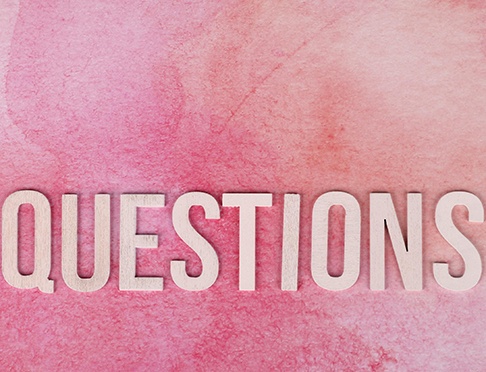 Cosmetic dentistry is a big investment, so it's normal to have a few concerns before you are ready to commit to anything. Don't worry, because your cosmetic dentist in New York will explain everything during your consultation. Here are the answers to the most frequently asked questions to ease your apprehensions until your appointment.
Who is a candidate for cosmetic dentistry?
If you aren't happy with the way your teeth look or want a younger, professional appearance, cosmetic dentistry may be right for you. Ideally, it's recommended for patients who are concerned about stains, chips, gaps, cracks, or abnormally shaped teeth; however, every situation differs. Your cosmetic dentist will examine your mouth and learn more about your goals to determine if you can benefit from elective procedures. Most patients with good oral health can achieve the smile of their dreams.
Why are healthy teeth and gums important?
While you may be concerned about aesthetic flaws, your cosmetic dentist will focus on the health of your teeth and gums. You can't have any untreated dental problems to benefit from cosmetic dentistry. If they aren't resolved, your smile may look better, but your results will ultimately fail. The issues will be covered up, allowing them to worsen until they turn into a big problem. Although fillings, gum disease therapy, or other preparatory procedures may add another step to your treatment plan, they are crucial to ensuring the long-term success of your investment.
How long will my results last?
Every procedure has a different lifespan. Some can last for several months, while others can thrive for a decade or more. In addition, various factors affect the duration of your results, like your oral health. You can get the most from your investment with a solid oral hygiene routine. Use a nonabrasive toothpaste and soft-bristled toothbrush to clean your teeth at least twice daily. Don't forget to floss before heading to bed. Your dentist will recommend breaking any bad habits that can damage your smile, like smoking, using your teeth to open bottle caps, or chewing on your fingernails. They'll advise you to wear an athletic mouthguard if you play sports or suggest a nightguard if you grind and clench your teeth. Regular appointments for a cleaning and checkup will also safeguard your beautiful smile from complications.
Can I use my dental insurance to pay for cosmetic dentistry?
Most dental plans won't pay for elective services; however, there are some exceptions. Many cosmetic procedures also provide restorative benefits, like tooth-colored fillings, dental bonding, and all-ceramic crowns. If your dentist determines an elective treatment is vital for your oral health, you may be able to use your dental coverage to offset the cost. After meeting your annual deductible, your policy can pay 50% to 80% of the fees for specific restorative procedures. In some situations, your dental insurance may cover any preparatory treatments, like gum disease therapy. A member of our team will work on your behalf with your dental insurance to maximize any applicable benefits.